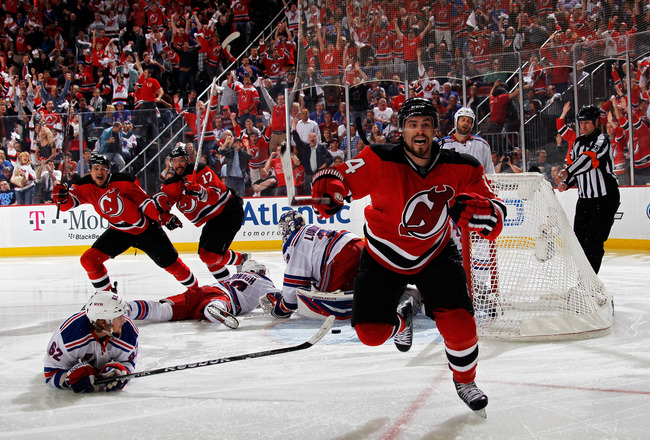 Although not all of us root for the red, black, and white here at SIMGE we'd be remiss if we didn't make mention of the Devils' unlikely playoff success this season en route to their 5th Stanley Cup Finals appearance. Titularly, here are five songs in tribute to what has spurred New Jersey thus far and hopefully will continue to against the Los Angeles Kings. Let's go Devils!
1) Lights – "Fourth Dimension"
The fourth line of Bernier, Gionta, and Carter has injected an element of surprising speed and goal scoring ability to New Jersey's already formidable offense.  Former Juno award winner Lights' north of the border electro-pop sound blends nicely with that same energy either on the stage or ice.
2) Biffy Clyro – "The Captain"
Do you hear the thundering, approaching footsteps? The intro to Scottish rockers Biffy Clyro's 2009 mainstream breakthrough Only Revolutions brings the regal chord burning and stomp worthy of a leader such as the Devils' own captain Zach Parise.
3) Martina Topley-Bird – "Ilya"
The Devils superstar winger Ilya Kovalchuk can disrupt any opposing team's game plan with his explosive scoring ability and sniper level marksmanship. Trip-hopper Martina Topley-Bird's hypnotizing ode "Ilya" lulls you while striking from angles you can only appreciate after multiple considerations not unlike the aforementioned hockey namesake.
4) Two Door Cinema Club – "Undercover Martyn"
Despite being one of the best goaltenders of all time Martin Brodeur's illustrious career has been largely denied the national media lauding granted to players in larger markets. Nevertheless the under the radar Marty has summoned the energy of men decades his junior like the boys in Two Door Cinema Club who conversely play with the technical precision of well seasoned veterans.
Dean Martin – "C'est Magnifique"
From the Rat Pack to the Rookie of the Year candidate, one word sums up the career of Dean Martin and the postseason play of Adam Henrique; Magnificent. Here's The King of Cool's rendition of the Cole Porter penned classic to take us out on the classiest of notes.